JAGUAR I-PACE VS. ALL-ELECTRIC COMPETITION
JAGUAR VS. ALL-ELECTRIC COMPETITION
STUNNING.
SPORTY.
DYNAMIC.
DESIRABLE.
THE NEW I-PACE IS A JAGUAR ABOVE ALL ELSE — A TRUE DRIVER'S CAR.
SEE FOR YOURSELF HOW THE NEW JAGUAR I-PACE STACKS UP AGAINST THE COMPETITION.
---
2019 JAGUAR I-PACE S
– AT A GLANCE –
SPECIFICATIONS
2019 Jaguar I-PACE
Tesla Model X Long Range
Audi e-tron Premium Plus
Base MSRP*
$69,500
$84,990
$74,800
Destination & Handling
$1,025
$1,200
$995
Federal Tax Credit**
$7,500
$1,875
$7,500
Base Price with Tax Credit including destination & handling
$63,025
$84,315
$68,295
Coverage/Warranty
Jaguar EliteCare
5 years / 60,000 miles
4 years / 50,000 miles
4 years / 50,000 miles
0-60 mph (sec.)
4.5
4.4
5.5 (With boost engaged)
Estimated Range*** (miles)
234
325
204
Apple Car Play & Android Auto
Standard
N/A
Standard
Park Assist
Standard
Optional
Standard
Heads-Up Display
Optional
N/A
Standard
Leather Seats
Optional
N/A
N/A (Optional on other trim)
---
RANGE
One full charge provides a range of up to 234 miles.*
*Figures shown are Manufacturer's driving range estimates. Actual mileage may vary. See Jaguar Retailer for updated EPA estimates.
CHARGING
The I-PACE is equipped to accept up to a 100 kW DC charge rate — this means you can easily achieve a 0-80% charge in just 45 minutes*
*Note: Actual charge times may vary according to environmental conditions and available charging installation.
BATTERY
The 90 kWh battery of the I‑PACE is made up of high-energy density, lithium-ion pouch cells. Its design and state-of-the-art thermal management system support longevity and periods of sustained maximum power.
BENEFITS & VALUE
The new Jaguar I-PACE base MSRP is lower than Model X by $15,000+
As of March 2019, the US Federal Credit is $7,500 for the I-PACE while the Model X is eligible for only $1,500.
Jaguar's extensive retailer network of 160+ is larger than Tesla, who is in the process of shutting down 10-30% of showrooms (As of March 2019).
Jaguar EliteCare Warranty covers I-PACE 5 yr / 60,000 mile with additional coverage on the battery for 8 years.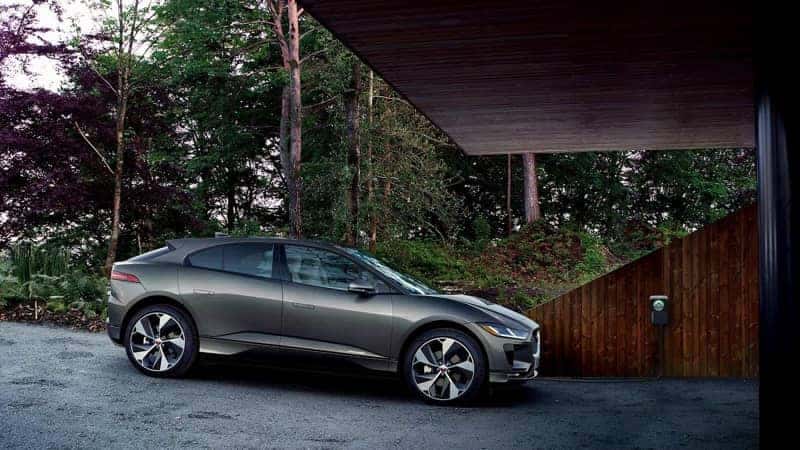 EXQUISITE EXTERIOR
The Jaguar I-PACE adapts the familiar Jaguar design language cues seen on our conventionally powered vehicles and allows them to take on new function and shape to make the most out of the all electric platform. Elements like the front grille have been reformed to direct airflow over the vehicle instead of to a conventional engine bay to power an engine. Keeping the front grille shape allows I-PACE to have a more familiar, less polarizing look.
The Tesla Model X has adopted a front end design with no grille, which creates a more polarizing look to consumers, on an otherwise less evocative design than the Jaguar I-PACE.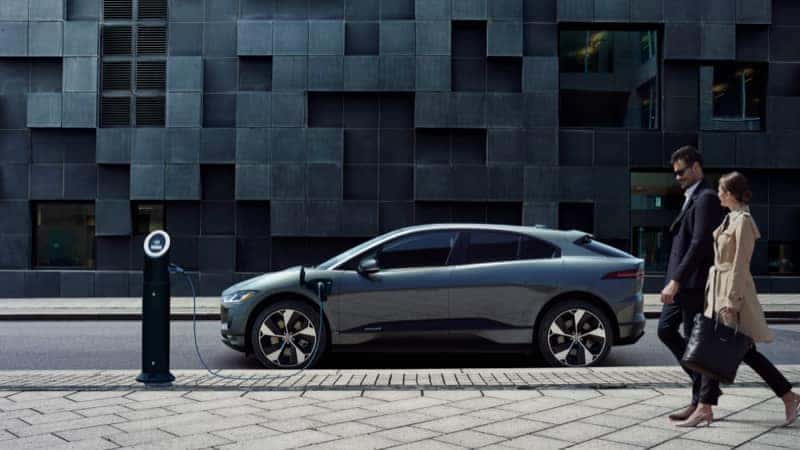 INVITING INTERIOR
The Jaguar I-PACE offers a warm and inviting interior filled with crafted materials. Seating can be selected in a variety of materials ranging from Luxtec to Windsor Leather or Premium Textile and Suedecloth, as well as color choices. Choice of finishers compliment the interior styling and allow customers to customize the look and feel of their vehicle. I-PACE offers Gloss Black, Aluminum, Wood or Carbon Fiber treatment along the instrument panel and doors.
The Tesla Model X has a stark, simple interior with very limited material and color choices available to their customers.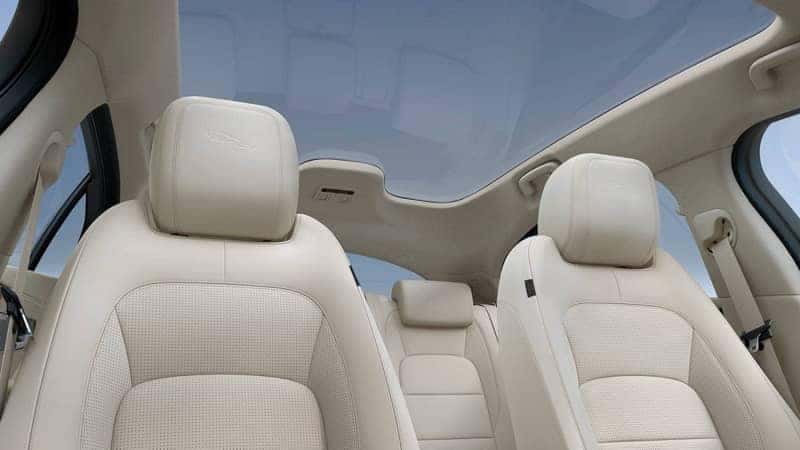 TREMENDOUS TECHNOLOGY
The Jaguar I-PACE comes equipped with the latest smartphone integration technology. Standard Apple CarPlay and Android Auto interfaces allow customers to simply plug in their compatible smartphone and utilize a familiar interface via the 10″ touchscreen to control various apps on their phones. I-PACE offers an optional Full Color Head-up Display, which projects important information, such as Navigation instructions and vehicle speed, right in the driver's field of view on the windshield.
The Tesla Model X does not offer this type of smartphone integration, but does have built in Google Maps navigation services and functionality as standard. Tesla does not offer Heads-up Display at all.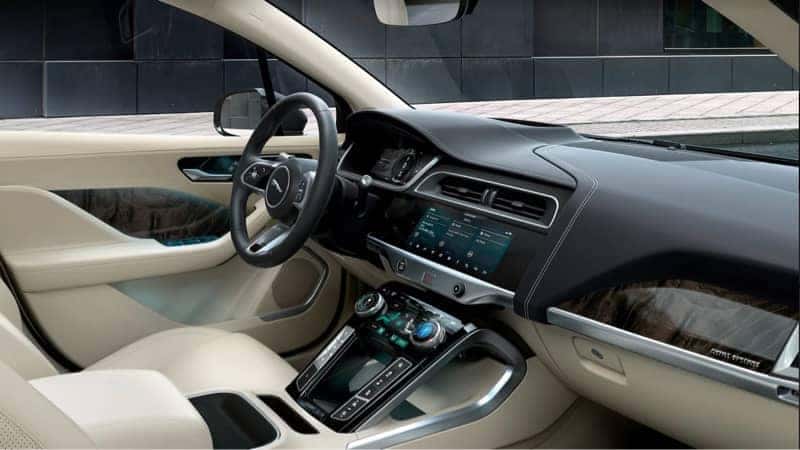 AWARDS & ACCOLADES